Radiant heating has a number of advantages: it is more efficient than baseboard heating and usually more efficient than forced-air heating because no energy is lost through ducts.
RADIANT HEATING: HOW IT WORKS
For over 30 years, we have offered a complete line of products and design assistance for our dealers. Included in our line of products are GT Globe Radiant Floor Tubing, Embassy manifolds and a full line of controls by GT Globe and Tekmar.

GT Globe tubing installed in a small shop. The tubing is stapled to the insulation using special staples available from Terra-Therm. It is very important to insulate under the slab and around the perimeter.
Here a dealer connects a Hydronic Radiant Center (HRC) to the Embassy Manifold system.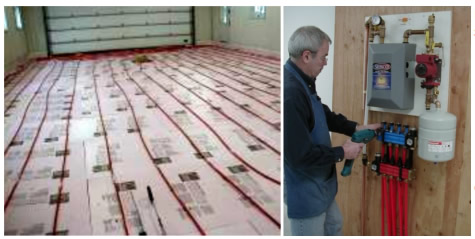 Once the loops are installed the ends of the loops are connected to the Embassy Manifolds and the system is pressure tested before pouring cement. Note the Embassy Manifold. Its features include:
built in flow controls to balance loop flow
built in flow meters
will accept motorized controls for electronic zoning
built in thermometers on supply and return
built in air bleeds
built in purge ports that seal automatically
minimal restriction for high flow rate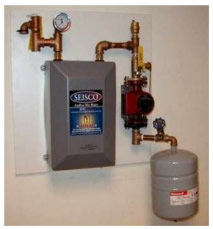 The HYDRONIC RADIANT CENTER (HRC) comes with all the hydronic components including the pump and Seisco Electric Hydronic Heat Source pre-plumbed, pressure tested and ready for connection to your floor system manifold: A real time saver for the heating professional. It is ideal for single or multiple zone applications.